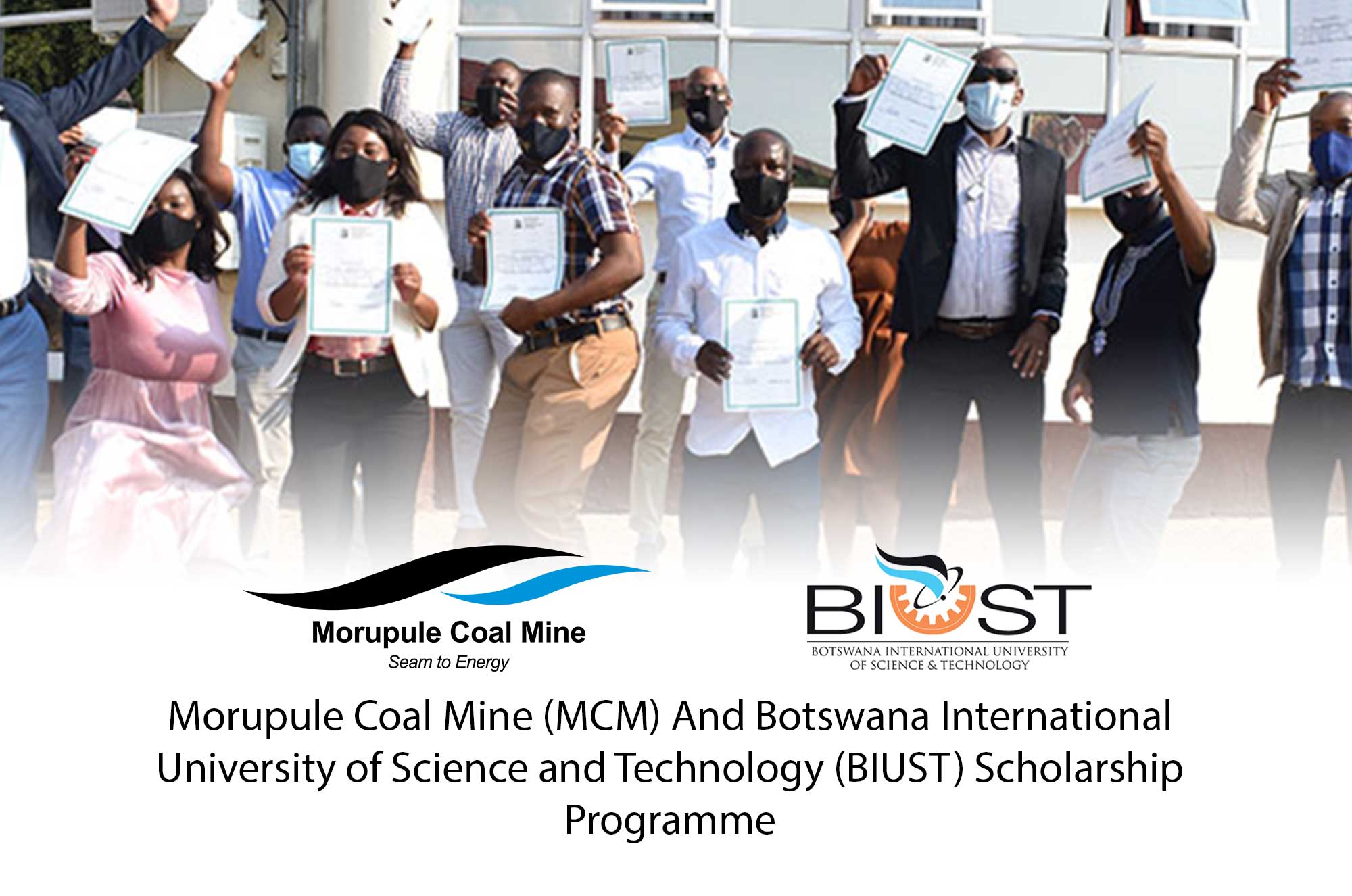 MCM SCHOLARSHIP 2022 - MASTERS (INDUSTRIAL & MANUFACTURING ENGINEERING)
Morupule Coal Mine (MCM) in collaboration with Botswana International University of Science and Technology (BIUST) offer a scholarship programme to promising Batswana students who wish to study a postgraduate course. The Course will be offered at BIUST effective August 2022. The course will be fully funded by MCM on a full time study basis.
Scholarship Programme:
Masters (Industrial & Manufacturing Engineering)
Project Description:
Surfaces of the ground exploring tools (GETs) encounter severe wear when they press and scratch against the coal mass. Failure of GET's components during underground mining results in direct cost expenditure due to their replacement, besides, significant indirect cost resulting from machine downtime. These operational challenges have negative implications on the sustainability and profitability of mining business. Hence, the mining equipment refurbishment project is aimed at refurbishing damaged GET's components via newly developed anti-wear materials, implementing most economically feasible deposition technology, and testing the wear performance of the refurbished GET components. The role of the successful Master's scholar in this project will include: (i) identifying the operating conditions of the GET's component of interest (e.g. continuous miner's pick body & sleeve) when cutting coal/rock band seam, (ii) incorporating the operating conditions in (i) above into the mechanical design and fabrication of the wear testing rig, (iii) testing the performance of the refurbished GET's components on the wear testing rig, & (iv) publish one journal article in disseminating the findings of this study. The studentship is based at the Mining Centre and the Advanced Manufacturing & Engineering Education (AMEE) research group, Botswana International University of Science & Technology (BIUST), Palapye.
Requirements for Selection criteria:
Applicants should:
i. Be graduates and current final year students of (i) Mechanical Engineering; (iii) Mechatronics & Industrial Instrumentation Engineering with a good grasp in (i) Design of machine elements, (ii) Engineering Graphics, (iii) Machine Fabrication, (iv) Programming (v) Materials Science, (vi) Manufacturing Technology and (vii) Experimental Skills.
ii. Have a minimum 2.2 undergraduate degree (BEng, BSc) with a cumulative grade point average of 3.50 (i. e. 65% or above) in relevant engineering disciplines above.
iii. Have an enquiring and rigorous approach to research, together with a strong intellect and disciplined work habits.
iv. Be a self-motivated person who meets the academic requirements for enrolment for a Master's degree at BIUST.
v. Demonstrate a good communication, team-working, management and leadership skills.
Application Procedure:
Interested applicants should send
i. a copy of certified academic transcript,
ii. a copy of certified graduation certificate,
iii. up to date 4-page curriculum vitae,
iv. two reference letters (one academic and one industrial- from internship or industrial work) and
v. one-page motivation letter to.
Human Resources Advisor – Learning and Development
-Morupule Coal Mine, Private Bag 35 PALAPYE
-Email: Scholarship@mcm.co.bw
Closing date: 15 April 2022
Short-listed applicants will be invited to an interview to determine the most suitable candidate who will be awarded the scholarship and supported for BIUST's admissions.
For further details on the scholarship, please contact Mr. Sam Kgwarapi at Skgwarapi@mcm.co.bw
Related Posts: