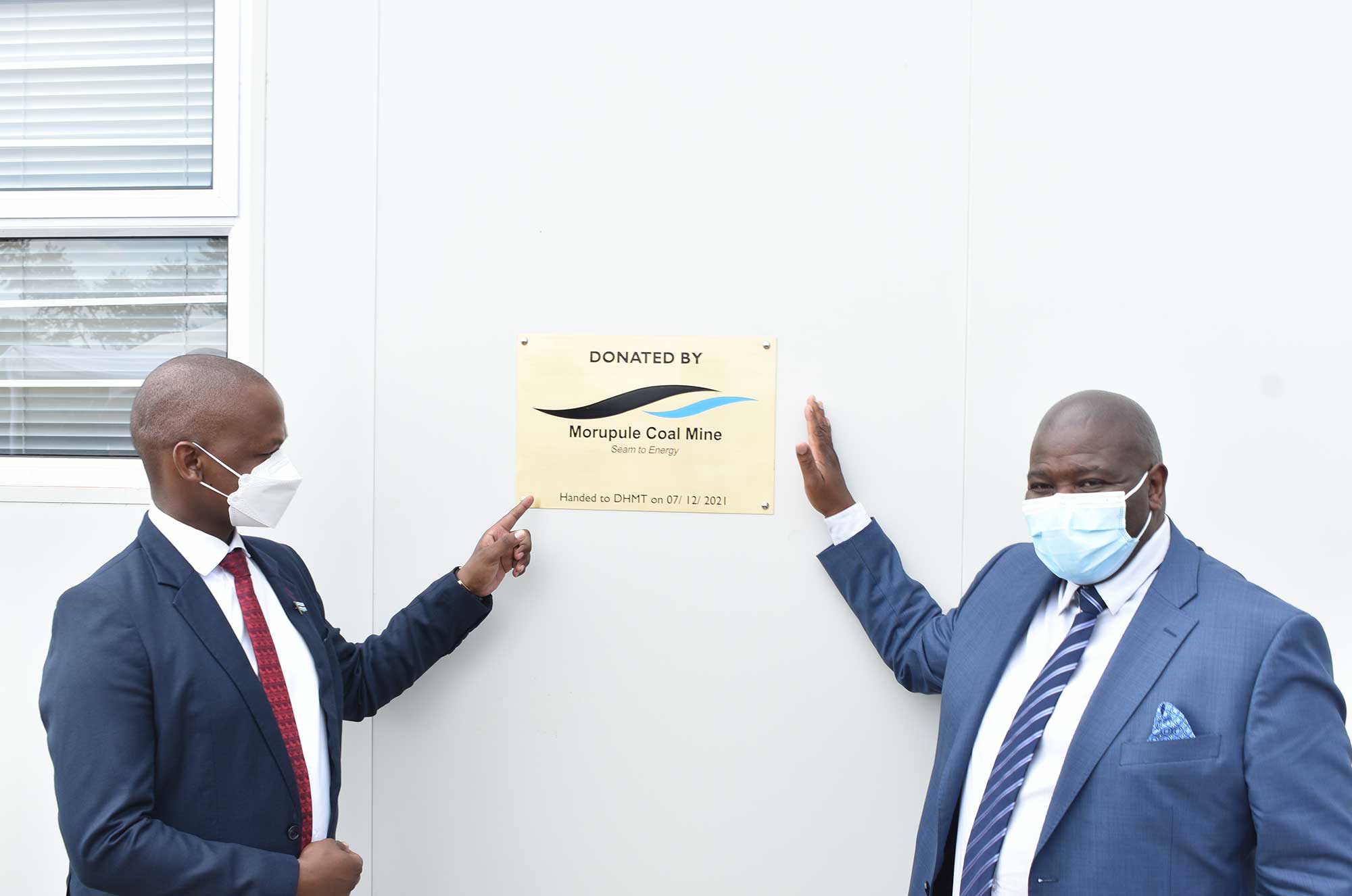 MORUPULE COAL MINE DONATES HEALTH EQUIPMENT TO SEROWE/PALAPYE DHMT
Donations valued at over P700 000.00 include two vehicles, two porta cabins, 19 medical oxygen concentrators.
Morupule Coal Mine (MCM) has donated health equipment worth over P700 000.00 to the Serowe/Palapye District Health Management Team (DHMT). The equipment included two vehicles, two porta cabins and 19 medical oxygen concentrators. Dr Edwin Dikoloti, the Minister of Health and Wellness, in formally receiving the equipment hailed the Morupule employees for their gesture, saying the donation will greatly contribute to the fight against the COVID-19 pandemic.
"The Serowe/Palapye DHMT is indeed blessed. It is not common to be showered with gifts and donations of this magnitude, especially during these difficult economic times. There is no doubt that MCM is God sent. They came at the right time and with the right donation," Minister Dikoloti said.
The Minister further said: "As we battle pandemics like COVID-19, we really need partners like Morupule Coal Mine, to support our response efforts. I want to take this opportunity to urge all Batswana to also do their part by always following COVID-19 protocols. It is through this that we will eventually defeat this pandemic".
MCM General Manager Edwin Elias in presenting the equipment said his company has put acting with compassion and integrity at the heart of contributing to the growth of Botswana.
"What gives me great joy is handing over of this equipment to DHMT in your presence (Minister) and that of the leadership of Palapye. This should bring hope to Batswana that our Government is working tirelessly to ensure prosperity for all and MCM rallies behind to augment government efforts," said Elias. He said they extend support to education, safety and health, culture and heritage, sports and recreation as well as the social welfare of the community within which they operate.
The General Manager highlighted that they have donated P2 million towards the private sector vaccine fund in support of the national vaccination campaign and have pledged that in case of a surge, MCM will finance the recruitment of two lab technicians and two data capture clerks to assist with speeding the test analysis process.
Related Posts: